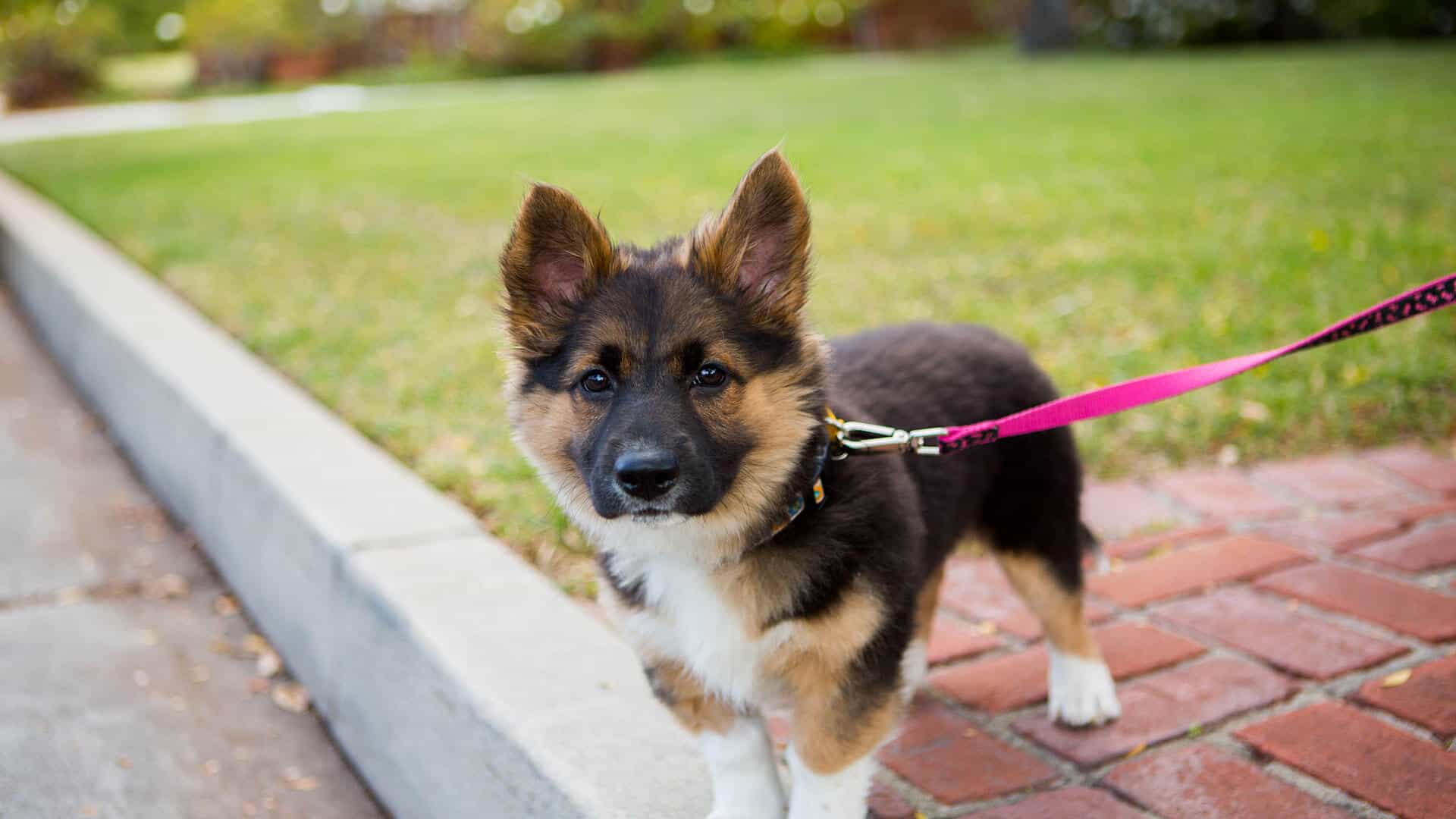 Doctors
Dr. Jamie Bobulsky

Medical Director
Dr. Bobulsky was born in Ohio at Wright Patterson Air Force Base and has lived all over the U.S. as part of an Army family. She completed her undergraduate degree in Zoology at Miami University in Ohio, and earned her Doctor of Veterinary Medicine at The Ohio State University in 2010. Dr. Bobulsky's veterinary special interests include wildlife and conservation medicine, ultrasound, surgery, ophthalmology, and public health. She enjoys all manner of continuing education studies and training, most recently having achieved Elite Level Fear Free Certified DVM status. She is an active member of the Ohio Veterinary Medical Association (OVMA) and American Veterinary Medical Association (AVMA).
Dr. Bobulsky worked with Dr. Donald Burton for several years at the Ohio Wildlife Center (OWC) before she joined Animal Care Unlimited (ACU) as a staff veterinarian in 2010. She enjoys working with the Ohio Wildlife Center as well as maintaining her role as Medical Director and an owner of Animal Care Unlimited. Dr. Bobulsky is honored to help preserve Dr. Burton's legacy and continue his great work with both organizations.
Dr. Bobulsky is married, and she has two daughters and four furry children. Bailey is a great shelter dog who as been in the family since veterinary school. The three cats (Cal, Blini and Rose) each came into the Bobulsky family as strays in various ways. Spare time will find Dr. Bobulsky and her family enjoying outdoor activities, music, cooking and traveling.
She looks forward to meeting you and your furry, feathered, or scaly family members!
Dr. Melinda Marksz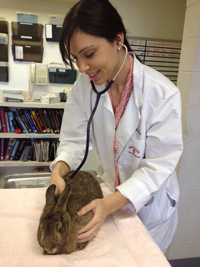 Dr. Marksz was born in Cleveland, Ohio and has had a passion for veterinary medicine from a very young age. She attended Miami University of Ohio for her undergraduate degree in Zoology and received her Doctor of Veterinary Medicine degree from The Ohio State University in 2011. Following graduation, she spent several months at Cleveland Metroparks Zoo before returning to Columbus to join Animal Care Unlimited and the Ohio Wildlife Center in 2012.
Dr. Marksz's special veterinary interests include zoo and wildlife medicine as well as exotic companion animals. She actively participates in annual conferences that support these interests. She enjoys her days at Animal Care Unlimited the most when they are filled with a variety of feathers, scales and fur, and she welcomes any patient that requires extra special attention!
Dr. Marksz also spends part of her professional time providing veterinary care for Ohio Wildlife Center. She finds great personal reward in being able to provide medical care to help facilitate rehabilitation and release of native Ohio wildlife, nearly 5,000 of which are admitted to the wildlife hospital every year!
Dr. Marksz is married and has three rescue kitties: Mocha, Chai, and Chino (Cappuccino), named after coffee drinks as she met her husband, Jared, at Starbucks. Chai is an independent and cranky calico, Chino is sweet, laid back and cuddly, and Mocha is an extremely intelligent but very expensive 'free' kitty as she has required several foreign-body removal surgeries, one of those 'foreign bodies' being a penny! Dr. Marksz plans to add more animal family members as their family and living space continues to grow.
Dr. Marksz and her husband enjoy hiking, camping, travel, and indulging in all of the amazing ethnic food that Columbus has to offer.
Dr. Crissy Olson
Prior to becoming a veterinarian, Dr. Olson was a fixed wing flight paramedic for one year followed by seven years as a land paramedic in Northern Ontario, Canada. During her 'human medicine' years, she found herself volunteering at a local wildlife rehabilitation center and decided to take a new career path, focusing on exotic pet medicine. Being the adventurous sort, she moved overseas to obtain her Bachelor of Veterinary Medicine and Surgery at the Royal Dick Vet in Edinburgh, Scotland. Once she returned home to Canada, she discovered exotic pet medicine was fairly scant, so she packed her bags once again and headed to a small animal practice in Ohio, then briefly relocated to Massachusetts before returning once again to Ohio where we were pleased to welcome her into our growing practice.
Dr. Olson is a member of the AAV (Association of Avian Veterinarians) and has a special affinity for birds and exotics. In her free time, Dr. Olson likes to tap into her creative side, and can be found making things out of wood, fabric or yarn (when she isn't playing with her 3D printer)!
Dr. Jodi Smith
Dr. Jodi Smith is a Buckeye born and raised and has a work history full of diversity. She graduated from The Ohio State University in 1995 and has worked in practices from Montana to Hawaii on her veterinary journey. Although she started her career as a mixed animal practictioner, it was here at Animal Care Unlimited from 2006-2011, under the tutelage of Dr. Donald Burton that Jodi found her passion for exotic medicine and wildlife rehabilitation and surgery.
She volunteers her free time to Freedom Tails Ohio Animal Rescue, where she helps care for thousands of animals rescued from the fate of being puppy mill captives until their death. This is a cause that is near and dear to Dr. Smith's heart, as she hopes to someday start a rescue of her own that focuses on retired barnyard animals and wildlife that cannot be returned to the wild after rehabilitation.
Dr. Smith has a son, Braig, finishing his senior year in Nursing School at Ohio University and her daughter, Trystyn, who recently gave Dr. Smith her first grandchild, works as a veterinary assistant in Eastern Florida. Dr. Smith currently shares her home with a Shih Tzu, "Doobi Doo", a Maine Coon cat named "Kylo Ren" and an assortment of fish. Dr. Smith and her partner, Charlie, aspire to find a good sized piece of land close by in the near future so that she can have LOTS more animals! For fun, she loves being outside, hiking, going to the dog park, kayaking or just taking in a great book next to the pool.
More than anything, Dr. Smith is excited to be back at the place that gave her so much love and experience early on in her career and we are very happy have her back 'home'. She looks forward to meeting you and your special pet at your next visit!
Dr. Grant Schoening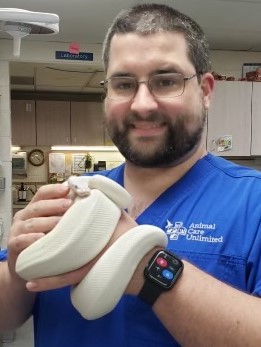 Dr. Grant Schoening is an Ohio native, born and raised just outside of Plain City. We first got to know Grant during his college undergraduate years when he volunteered and completed and internship with The Ohio Wildlife Center. Under the directorship of Dr. Donald Burton, Grant began working for Animal Care Unlimited as a part time animal care assistant from 2011 to 2014, during his early years of veterinary school. After graduation from The Ohio State University School of Veterinary Medicine in 2016, he spent six years at a veterinary practice in Lewis Center, primarily seeing dogs and cats, developing a further interest in dentistry and surgery. His deep love for exotic animals, especially reptiles, brought him back to ACU in June 2022, and we couldn't be happier to have him back home!
Dr. Schoening loves to spend his free time with his wife and two sons, kayaking, fishing and making custom ink pens.
Dr. Bryan Berkenbile
A California native, Dr. Berkenbile received his undergraduate degree from Los Angeles' Pierce College. He then spent ten years managing large volume pet stores before deciding to pursure his Doctor of Veterinary Medicine at The Ohio State University and graduated in 2021. His special interests include companion exotic animals and facilitating the human-animal bond. He is Fear Free Certified and his mission is to make his patients and their human families feel comfortable and well-informed at all times. He is a member of several organizations, most notably the Ohio Veterinary Medical Association (OVMA) and the American Veteinary Medical Association (AVMA). Dr. Berkenbile is married to his wife, Dana (a recent OSU grad herself as a Nurse Practitioner) and he also shares his home with two Central American Boa Contrictors as well as "Bodhi" a senior female Lhasa Apso mix, and new adoptee, "Rusty", a Cavalier King Charles Spaniel. Although he still struggles a bit with our Midwestern winters, Dr. Berkenbile has fallen in love with Columbus, and in his spare time you may find him trying out a brand new restaurant or visiting one of the many Metro Parks with his family.