Doctors
Jamie Bobulsky, DVM

Medical Director
Dr. Bobulsky was born in Ohio at Wright Patterson Air Force Base and has lived all over the U.S. as part of an Army family. She completed her undergraduate degree in Zoology at Miami University in Oxford, Ohio, and earned her Doctor of Veterinary Medicine at The Ohio State University in 2010. Dr. Bobulsky's veterinary special interests include wildlife and conservation medicine, ultrasound, surgery, ophthalmology, and public health. She regularly attends conferences and reads medical journals to deepen her knowledge, and she also enjoys working with the Ohio Wildlife Center.
Dr. Bobulsky is married, and she has one daughter and four furry children. The human child (Emma) keeps Dr. Bobulsky and her husband, Greg, very busy, as most toddlers do. Bailey is a shelter pup—a true 'mutt'—and was Dr. Bobulsky's first surgical patient. The cats are Plum, Cal, and Blini, and each of them came into the Bobulsky family as strays in various ways. Dr. Bobulsky and her family enjoy outdoor activities, music, cooking, OSU football games, and all the other great opportunities Columbus has to offer.
Dr. Bobulsky worked with Dr. Don Burton for years at the Ohio Wildlife Center before she came to ACU, and she strives to preserve his legacy and continue his work. She is proud to be a member of the ACU team. She looks forward to meeting you and your furry, feathered, or scaly family members!
Samuel Valerius, DVM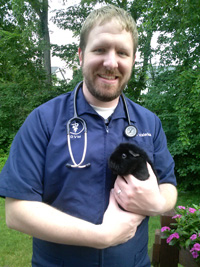 Dr. Valerius is an Ohio native, born in Hamilton, a small city just north of Cincinnati. He obtained his undergraduate degree from Ohio Wesleyan University in Delaware and his veterinary degree from The Ohio State University in 2013. After graduation, Dr. Valerius worked in a small animal clinic in Grove City for a year before joining the Animal Care Unlimited doctor team in 2014. Prior to officially joining ACU as a doctor, though, we knew him quite well already! Not only had he been a volunteer at the Ohio Wildlife Center since 2007, but during his fourth-year veterinary school studies, he spent significant time with us while being mentored by Dr. Burton and the rest of our doctors in companion animal medicine and exotic species.
Dr. Valerius' veterinary interests include canine/feline internal medicine, companion exotic animals (especially pet rats!), and parasitology. He has traveled to Africa twice to research parasites and their effect on both animals and people in villages. Dr. Valerius has had additional training on abdominal ultrasounds and is continuing to expand his knowledge in this modality through veterinary conferences and continuing education courses.
Dr. Valerius and his wife currently have 5 rescued 'fur' babies: 2 cats (Scotty and Mitsie), 2 rats (Macy and Lindsay), and 1 guinea pig (Ginny). Dr. Valerius is a member of the Ohio Veterinary Medical Association, the American Veterinary Medical Association, and also a United States Chess Federation member. During his free time he can be seen playing in local chess tournaments in Columbus.
Melinda Marksz, DVM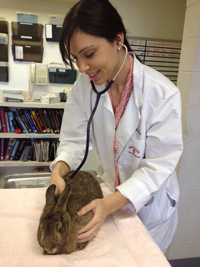 Dr. Marksz was born in Cleveland, Ohio and has had a passion for veterinary medicine from a very young age. She attended Miami University of Ohio for her undergraduate degree in Zoology and received her Doctor of Veterinary Medicine degree from The Ohio State University in 2011. Following graduation, she spent several months at Cleveland Metroparks Zoo before returning to Columbus to join Animal Care Unlimited and the Ohio Wildlife Center in 2012.
Dr. Marksz's special veterinary interests include zoo and wildlife medicine as well as exotic companion animals. She actively participates in annual conferences that support these interests. She enjoys her days at Animal Care Unlimited the most when they are filled with a variety of feathers, scales and fur, and she welcomes any patient that requires extra special attention!
Dr. Marksz also spends part of her professional time providing veterinary care for Ohio Wildlife Center. She finds great personal reward in being able to provide medical care to help facilitate rehabilitation and release of native Ohio wildlife, nearly 5,000 of which are admitted to the wildlife hospital every year!
Dr. Marksz is married and has three rescue kitties: Mocha, Chai, and Chino (Cappuccino), named after coffee drinks as she met her husband, Jared, at Starbucks. Chai is an independent and cranky calico, Chino is sweet, laid back and cuddly, and Mocha is an extremely intelligent but very expensive 'free' kitty as she has required several foreign-body removal surgeries, one of those 'foreign bodies' being a penny! Dr. Marksz plans to add more animal family members as their family and living space continues to grow.
Dr. Marksz and her husband enjoy hiking, camping, travel, and indulging in all of the amazing ethnic food that Columbus has to offer.
Chelsea Ruzzo, DVM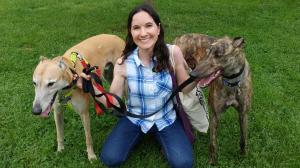 Welcome the newest addition to Animal Care Unlimited! To many of you, Dr. Ruzzo may look very familiar- and she should.... she worked at ACU for several years as a veterinary technician while attending vet school and we could not be happier that she has now permanently joined the ACU doctor team!
Dr. Ruzzo was born and raised in a small town in Connecticut and received her bachelor's degree in Veterinary Science at Becker College in Massachusetts. It was there she began her obsession with animal behavior and learned about ways to decrease fear and anxiety in her patients. Dr. Ruzzo went on to attend The Ohio State University College of Veterinary Medicine to continue her studies. She was secretary and president of the OSU Behavior Club, as well as an active member of the OSU Zoo Club and Buckeyes 4 Greyhounds. Dr. Ruzzo is now a Fear Free Certified DVM and is committed to reducing fear, anxiety and stress for all patients that visit our practice.
Dr. Ruzzo shares her home with two retired Greyhounds,' Red' and 'John', a cat named 'Scout', and three guinea pigs. In her free time she enjoys hiking, dog training, reading, and spending time with family and friends. Dr. Ruzzo's professional affiliations include: the American Veterinary Medical Association, Ohio Veterinary Medical Association, and The American Veterinary Society of Animal Behavior.
Contact Us:
Animal Care Unlimited
Call us today:

E-mail us:

Address:
Monday – Friday

: 7 a.m. – 7 p.m.

Saturday

: 9 a.m. – 3 p.m.

Sunday

: 9 a.m. – 3 p.m.